ACL Graft Selection
ACL GRAFT SELECTION
Anterior cruciate ligament injuries are among the most common injuries in the active population. Roughly 200,000 ACL injuries occur annually in the United States, many of which undergo surgical reconstruction. Prior to surgery, the patient has a choice as to what type of tissue they would like their ACL to be replaced with. Often the patient follows what their orthopedic surgeon recommends without asking questions or doing prior research.
There are several factors to consider when selecting a type of graft. Individual factors of the patient include age, lifestyle, goals, activity level, and comorbidities. Characteristics unique to the graft include biomechanical properties, biology of healing, graft harvest, fixation strength, and graft site morbidity.
Analyzing pros and cons of graft selection can be difficult due to the variability in studies with respect to surgical technique, graft fixation method, tunnel positioning, rehabilitation protocol, allograft preparation and sterilization, outcome measures, and bias.
TYPES OF GRAFTS
Before we start comparing graft choices, let's differentiate between autograft and allograft. Autograft means using your own tissue. Allograft means using tissue from a cadaver.
The most common ACL graft choices available are:
Patellar tendon autograft

Hamstring tendon autograft

Quadriceps tendon autograft

Patellar tendon allograft


HOW ARE THE DIFFERENT GRAFTS HARVESTED?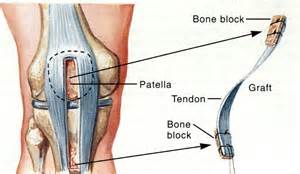 Patellar tendon autografts are also referred to as Bone–Patellar Tendon–Bone (BPTB). This technique requires 1 or 2 incisions to the front of the knee. The graft is then harvested by taking a small piece of both the patella and the tibial tuberosity with a bundle of the patellar tendon in between. This creates the bone–patellar tendon–bone graft. This type of graft harvest has the highest donor site morbidity contributing to anterior knee pain, pain with kneeling, and difficulty regaining hyperextension in the early phase of rehab.
Hamstring tendon autografts follow a standardized technique in which a small incision is made to the back of the knee with careful dissection of the fascia. A quadrupled hamstring tendon or the association of the hamstring and gracilis tendons are then harvested. This type of graft does not use bone plugs and spares disruption to the extensor mechanism.
Quadriceps tendon autografts are the newest type of graft to the selection. The quadriceps tendon graft can be used with or without a bone plug (piece of the patella attached to one end), and it can be harvested from either side of the quadriceps tendon.
Allografts are harvested from cadavers. The tissue is then prepared and sterilized to ensure it is free of contamination prior to implantation. Some sterilization techniques can weaken the graft so be sure to discuss this process with your surgeon if an allograft is the best choice for you.


GRAFT HEALING AND INCORPORATION
One benefit of the patellar autografts is the bone-to-bone healing within the tibial and femoral tunnels, which is similar to fracture healing. Bone-to-bone healing is stronger and faster than soft tissue healing. The graft bone can be healed to the host bone within 6 weeks. Comparatively, soft-tissue grafts heal within 8 to 12 weeks.
Following implantation, the graft undergoes incorporation in which the current properties of the graft become more like the properties of a native ACL. During this time the graft experiences degeneration, revascularization, and maturation. During the final phase of graft healing, the collagen structure is remodeled into a more organized pattern with improved mechanical properties allowing for the graft to function like a native ACL.
Allografts, compared to autografts, have a lower rate of biologic incorporation. This slows the rehabilitation process and can be disadvantageous for individuals looking to return to sport in a timely manner.
WHAT DOES THE EVIDENCE SHOW?
There are a few factors to consider when selecting the optimal graft: graft strength and joint stability, re-tear rate, patient function, and return to sport. Remember, the best graft choice is variable and dependent on patient specific characteristics.
GRAFT STABILITY
A meta-analysis of 6 randomized controlled trials compared the stability of hamstring tendon autografts to BPTB autografts. 423 patients were followed for a minimum of 2 years after surgery. There was no significant difference found for the Lachman test. BPTB was found to have a significantly decreased risk of a positive pivot-shift test compared with the HT graft.2
A prospective randomized study compared the stability of BPTB autograft to BPTB allograft with an average follow-up of 5.6 years. No significant difference was found for the Lachman test, pivot-shift test, mean laxity with arthrometer testing, or percentage of knees with greater than 3 mm of laxity on arthrometer testing.3
Although the quad tendon graft is the newest option with significantly less research behind it, there are some studies that support its efficacy and suggest that it is of comparable strength to the BPTB graft. One study found that anterior knee laxity was equal between the QT group and BPTB group. The quad tendon group reported significantly less anterior kneeling pain compared to BPTB group.4
REVISION RATE
Despite reported stability objective measures, re-tear rate may be a more functional measure of graft strength.
A Scandanavian study looked at 45,998 primary ACL reconstructions comparing patellar tendon autografts and hamstring autografts. The BPTB grafts had a retear rate of 2.31% while the HT grafts had a retear rate of 2.69%.5
A Norwegian study also looked at the re-tear rate of BPTB grafts compared to HT grafts. This study included 12,643 primary ACL reconstructions and found that 2.01% of the patellar tendon grafts required revision whereas 3.9% of the hamstring grafts required revision.6
A Danish study found similar results when following 13,647 primary ACL reconstructions for 5 years. They found a hamstring graft revision rate of 0.65% at 1 year and 4.45% at 5 years, compared to a patellar tendon graft revision rate of 0.16% at 1 year 3.03% at 5 years post op.7
Allografts have been shown to have a higher failure rate compared to autografts, especially in the younger more active population.
A metanalysis compared the failure rate between autograft and allografts in young highly active individuals (mean age 21.7) with ACL reconstruction. autografts had a pooled failure prevalence of 9.6% (76/788 patients) while the allografts had a pooled failure prevalence of 25% (57/228).8
A US study from California looked at age related risk factors for revision ACL-R and found that 5 year revision probability was highest in patients <21 years old. In patients ≤40 years old, those with allografts had a higher risk of revision than those with BPTB autografts. Patients <21 years old with hamstring autografts had a 1.61 times higher risk of revision than did patients with BPTB autografts.9
However, another study found that BPTB allografts that were not chemically processed or irradiated had the same failure rate as BPTB autografts in patient <25 years at a minimum of 2 year follow up.10
FUNCTION
A systematic review of 9 randomized controlled trials found that no study reported a significant difference in graft failure between patellar tendon autografts and hamstring tendon autografts. Eight of the 9 RCT showed no significant differences in 12 of the 13 functional assessments when comparing BPTB and HT grafts.11
Another study looked at 144 patients with either BPTB autografts or QT tendon autografts and found similar results. The patients were followed for a minimum of 2 years following surgery. The results regarding anterior joint laxity, quadriceps strength, and reported function were similar between the two groups; however, the BPTB group had an increased prevalence of reported anterior knee pain.12
GRAFT COMPARISON
Patellar Tendon autograft
♦ Pros: faster healing of bone plugs within tibial and femoral tunnels with solid fixation, low re-tear rate, good return to sport outcomes
♦ Cons: anterior knee pain, pain with kneeling, more incision site scars, possible difficulty obtaining knee hyperextension
Hamstring autograft
♦ Pros: quadrupled tendon gives the graft good strength, good return to sport outcomes
♦ Cons: slower rate of graft fixation compared to bone plug
Quad Tendon autograft
♦ Pros: strong graft comparable to BPTB without anterior knee pain, may be harvested with a bone plug
♦ Cons: not as much evidence supporting long term outcomes
Allograft
♦ Pros: no donor site morbidity, decreased time in operating room
♦ Cons: some sterilization techniques can weaken the tissue, higher failure rate in young active individuals, longer incorporation period
---


TAKE HOME
Graft selection should not be overlooked prior to undergoing ACL reconstruction. There is evidence to support the use of all four graft types depending on patient specific characteristics. Be sure to discuss with your surgeon current lifestyle and what type of physical activity you wish to engage in the future.






Written by Hannah Sweitzer
References
West, Robin V. MD; Harner, Christopher D. MD Graft Selection in Anterior Cruciate Ligament Reconstruction, Journal of the American Academy of Orthopaedic Surgeons: May 2005 – Volume 13 – Issue 3 – p 197-207

Biau DJ, Katsahian S, Kartus J, et al. Patellar tendon versus hamstring tendon autografts for reconstructing the anterior cruciate ligament: a meta-analysis based on individual patient data. Am J Sports Med. 2009;37(12):2470-2478
Sun K, Tian SQ, Zhang JH, Xia CS, Zhang CL, Yu TB. Anterior cruciate ligament reconstruction with bone-patellar tendon-bone autograft versus allograft. Arthroscopy. 2009;25(7):750-759

Lund B, Nielsen T, Faunø P, Christiansen SE, Lind M. Is quadriceps tendon a better graft choice than patellar tendon? a prospective randomized study. Arthroscopy. 2014 May;30(5):593-8. doi: 10.1016/j.arthro.2014.01.012. Epub 2014 Mar 14. PMID: 24630956.

Gifstad T, Foss OA, Engebretsen L, Lind M, Forssblad M, Albrektsen G, Drogset JO. Lower risk of revision with patellar tendon autografts compared with hamstring autografts: a registry study based on 45,998 primary ACL reconstructions in Scandinavia. Am J Sports Med. 2014 Oct;42(10):2319-28. doi: 10.1177/0363546514548164. Epub 2014 Sep 8. PMID: 25201444.

Persson A, Fjeldsgaard K, Gjertsen JE, Kjellsen AB, Engebretsen L, Hole RM, Fevang JM. Increased risk of revision with hamstring tendon grafts compared with patellar tendon grafts after anterior cruciate ligament reconstruction: a study of 12,643 patients from the Norwegian Cruciate Ligament Registry, 2004-2012. Am J Sports Med. 2014 Feb;42(2):285-91. doi: 10.1177/0363546513511419. Epub 2013 Dec 9. PMID: 24322979.

Rahr-Wagner L, Thillemann TM, Pedersen AB, Lind M. Comparison of hamstring tendon and patellar tendon grafts in anterior cruciate ligament reconstruction in a nationwide population-based cohort study: results from the danish registry of knee ligament reconstruction. Am J Sports Med. 2014 Feb;42(2):278-84. doi: 10.1177/0363546513509220. Epub 2013 Nov 25. PMID: 24275859.

Wasserstein D, Sheth U, Cabrera A, Spindler KP. A Systematic Review of Failed Anterior Cruciate Ligament Reconstruction With Autograft Compared With Allograft in Young Patients. Sports Health. 2015 May;7(3):207-16. doi: 10.1177/1941738115579030. PMID: 26131297; PMCID: PMC4482307.

Maletis GB, Chen J, Inacio MC, Funahashi TT. Age-Related Risk Factors for Revision Anterior Cruciate Ligament Reconstruction: A Cohort Study of 21,304 Patients From the Kaiser Permanente Anterior Cruciate Ligament Registry. Am J Sports Med. 2016 Feb;44(2):331-6. doi: 10.1177/0363546515614813. Epub 2015 Dec 4. PMID: 26637284.

Barber FA, Cowden CH 3rd, Sanders EJ. Revision rates after anterior cruciate ligament reconstruction using bone-patellar tendon-bone allograft or autograft in a population 25 years old and younger. Arthroscopy. 2014 Apr;30(4):483-91. doi: 10.1016/j.arthro.2013.12.022. PMID: 24680308.

Spindler KP, Kuhn JE, Freedman KB, Matthews CE, Dittus RS, Harrell FE. Anterior Cruciate Ligament Reconstruction Autograft Choice: Bone-Tendon-Bone versus Hamstring: Does It Really Matter? A Systematic Review. The American Journal of Sports Medicine. 2004;32(8):1986-1995. doi:1177/0363546504271211
Han, H.S., Seong, S.C., Lee, S. et al.Anterior Cruciate Ligament Reconstruction. Clin Orthop Relat Res 466, 198–204 (2008). https://doi.org/10.1007/s11999-007-0015-4
Macaulay AA, Perfetti DC, Levine WN. Anterior cruciate ligament graft choices. Sports Health. 2012;4(1):63-68. doi:10.1177/1941738111409890